Door
to the
BUNNYSATTVA





BUNNYSATTVA WEB PAGES

The Bunnysattva Sutra?
is the sacred scripture of the Eastern School of Broad Buddhism. Newly translated from Tibetan by the Bunnysattva Sutra Translation Committee in Versailles, France and Dharamsala, India, and edited and annotated by Emma Sirani. This page tells a little about the background of the Sutra. You can download the Sutra in fourteen parts by clicking on the links below.

THE BUNNYSATTVA SUTRA
You can read the English-language version of the Sutra by downloading the following word document files. The Bunnysattva Sutra is available free of charge for your personal use only. The entire Sutra is copyright protected and may not be reproduced in any way without written permission -- see the bottom of this page for details.
Part One
Part Two
Part Three
Part Four
Part Five
Part Six
Part Seven
Part Eight
Part Nine
Part Ten
Part Eleven
Part Twelve
Part Thirteen



Zalak
The first issue of a web magazine written, edited and published by students of the Bunnysattva. The second issue may come out someday too.
Bunnysattva Sangha of Paris
The Bunnysattva Sangha of Paris, under the guidance of Oscar Luft-hansa, meets at the Center for Broad Buddhism at 7, rue Georges Gurdjieff. This is their current home page.
Last Summer's Paris Page
Their previous page. Material on Broad Buddhism in English and bad French.
Bunnysattva Sangha Tribeca
The New York followers of the Bunnysattva study with Patra Chosnyid Skybamedpa, the author of The Bunnysattva Sutra and a book of talks, "Feet in the Clouds, Head in the Ground." This is their current home page.
Last Summer's Tribeca Page
This is last year's New York group home page. Articles about meditation, Padmasambhava, and a message from the Virgin Mary (?).



PERSONAL PAGES
Mandy's homepage
Mandy Bell Buick is a student of the Bunnysattva and Patra Skybamedpa. She lives in New York City.
Petunia P. Twinkleberry's home page
Petunia designs boulder beds and is the priestess of the Temple of the Perfect Dress.
Aerna Otatop's home page
Aerna Otatop, a Christian-Buddhist from Norway, is a devotee of Jesus and the Bunnysattva. She studies with Patra Skybamedpa and edited the first issue of Zalak.
Shura Beelze's home page
in which she lectures on Buddhism. Shur is a student of the Bunnysattva and of Patra Skybamedpa. Sadly, some browsers can't see this web page. If yours can't, save it as TEXT and you'll be able to read it.
Favor of Reykjavik's home page
Favor is an aspiring dancer and actress, and studies astrology with Patra Skybamedpa in Manhattan or wherever.
Toof Otatop's home page
Toof is from Vardo, Norway, and is a student of the Bunnysattva, Patra Skybamedpa, and the Incredible String Band.

PICTURES
The Bunnysattva painted by Patra Skybamedpa
This painting is in the library of the Bunnysattva Sangha Tribeca in New York.
Sacred Image of the Bunnysattva
This drawing, used for meditation and devotional practice, portrays her rarely seen semi-human form. Ordinarily the Bunnysattva appears as a small grey-brown rabbit. The source of this picture is unknown.
A drawing by Meherwan Rinpoche
commonly known as Meher Baba. Some Buddhists believe he is the Buddha Maitreya. You can find out more about him at Meherwan Centre in Edinborough, Wales.

Members of America Online can read recently translated chapters of the Sutra, and share in deep discussions of its spiritual significance and its place in their lives. Go to the Buddhism Forum of AOL (keyword: Buddhism), look for Message Board Two, and scroll down to the Bunnysattva Sutra folder. If you know how to reset your Message Board Preferences to go back 1200 days, you can read hundreds of pages of The Bunnysattva Sutra there, instead of downloading it here.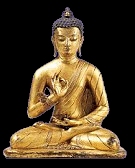 LETTERS
The Bunnysattva Letters
Questions and answers about the Bunnysattva, the Sangha, the Sutra, and the Eastern School, as well as readers' comments. Some people have problems reading this page with their browsers. If you are one, save the page as TEXT and read it offline with your browser or word processor. You can also send your thoughts, prayers, praise and complaints to Aerna at aernadrome@aol.com and maybe they'll turn up on this page as well.

EXTINCT PAGES


The Eastern School of Broad Buddhism
was founded by the Bunnysattva for the spiritual education of humanity. Beginners classes are held in New York, Paris and Vladivostok. This web page, is out of date. But if you've got nothing better to do...
Sign up for the Sutra
This is where people used to register to download and read the Bunnysattva Sutra. The page was cleverly designed to foil enemies of the Sutra and Sangha. It succeeded, and now is just a relic of an earlier, more primitive era.

This page is copyright 2000 The Eastern School of Broad Buddhism, all rights reserved. The Bunnysattva Sutra is copyright 2000 Patra Chosnyid Skybamedpa, and may not be reproduced without written permission of the author -- except a single electronic or paper copy for your personal use.

If you've been studying The Bunnysattva Sutra and your home page has links to it, let us know so we can list it here. Write Aerna at aernadrome@aol.com

Note that the Bunnysattva Sangha Tribeca is not accepting any new students till next September.

Thanks for stopping by. Let us know what you think. And may the Bunnysattva bless and protect you (and us)!



Aerna Otatop
Mandy Bell Buick
Shura Beelze and
Retlaw Tsoy

May 30, 2000
Manhattan



Om Bunnysattva Soha



.