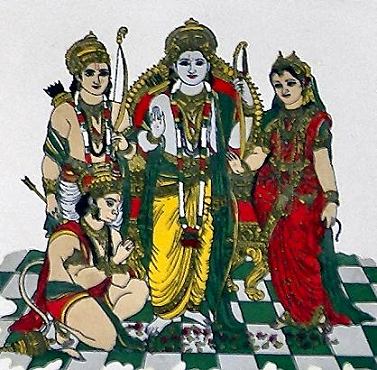 RAMA
3500 or 5000 bce?
RAMA is also known as RAM and RAMACHANDRA. His father was DASARATHA, the king of Kosala, the capital of which was Ayodhya. His mother was KAUSALYA. His half-brothers were LAKSHMANA, BHARATA, and SATRUGHNA. His Master was VASHISHTHA. He married SITA (also called SHRI, LAKSHMI, VIDEHAKUMARI and JANAKI), daughter of the Perfect Master JANAK, the king of Videha, and his wife SUNAYANA. Rama and Sita had two sons, LAVA and KUSHA, who grew up in the hermitage of the Master VALMIKI. Another sage connected with Rama was VISVAMITRA. Among Rama's disciples or devotees were HANUMAN, SUGRIVA, JAMBAVAN, JATAYU, NALA, NILA, VIBHISHAN and PINGALA (a former prostitute). Rama's "enemy" was RAVANA, king of Lanka (Ceylon), who kidnapped Sita and died in battle with Rama.
"In Rama's time a yogi once did penance for one hundred years. There was another man who loved the Master. He did no penance, no fasting. He only loved Rama. One day the Master went walking in the jungle. The yogi opened his eyes and said to him,

"'O Rama, when will I see your formless face?'

"Rama replied, 'In fifty years.'

"The yogi was frightfully disappointed, and said 'I made penance for one hundred years, and I suffered much, and still fifty years to wait!'

"The next day the Master accosted the happy devotee, and this loving one asked, 'O Rama, when will I see your formless state?'

"Rama replied, 'After fifty more lives.'

"The devotee said, 'So soon!' And thereupon he got into such an ecstasy that he died. And as he was dying, he saw Rama's formless state."
Meher Baba, before February 1939,

Tr p7, also MJ Feb. 1939
"Baba has told us that at the time of Rama, people were rather good, and the world was not like it is now. But Rama told his devotees and disciples that it would not always be so, that when the Kali Yuga or Iron Age came, it would be the worst and most destructive in the world's history, that there would be much war, degeneration and depravity. The word got around, and all the followers came and begged, 'Lord Rama, please do not let us incarnate in the dreadful Kali Yuga age.' (smiling) So here we all are."
Mehera Irani, November 1962, Poona, HM p358
For more about Rama, see LM4 p1259, MJ 1:4 p18-19.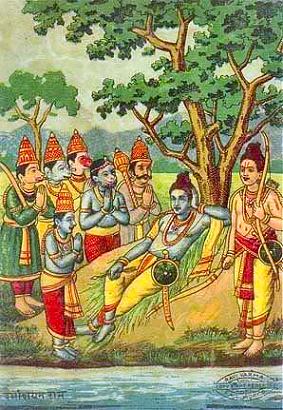 Index - Incarnations of the Avatar