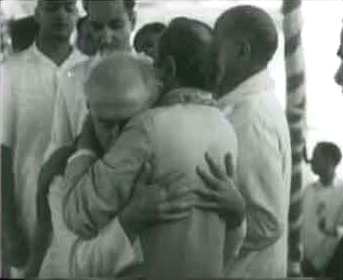 REINCARNATION
Book Two
"Unlike the definite course followed in the process of evolution, man as man can make use of his consciousness fully and freely. Therefore the fully Gross-conscious man, according to the resultant tightening or loosening of his sanskaric bindings, can become fully Subtle-conscious, and thereafter fully Mental-conscious, sometimes after a few, or sometimes after numerous human reincarnations between each of the two involutions of his consciousness.

"And if one happens to be blessed with divine love from a lover of God, or if one has the guiding hand of a Perfect Master, the emancipation from all bindings, however great and complicated they may be, is achieved much more easily and quickly.

"In exceptional cases, an instantaneous emancipation is also possible without involving a single reincarnation."
Meher Baba, before 1955, GS p165-166
"It takes many lifetimes (usually hundreds), and thousands of years for the pilgrim to traverse all seven inner planes and heavens, though he could do so in one great leap if a Sadguru wished it and personally guided him."
from notes dictated by Meher Baba, 1960s
written up by Bhau Kalchuri, NE p83
---
For a lengthy and detailed explanation of the process of reincarnation, see 'Reincarnation and Karma' in Discourses (7th edition) p301-338.

Also see 'The Advancing Life Stream,' 'The Equation of Body and Soul,' and 'The Calculus of Opposites' in 'Beams from Meher Baba on the Spiritual Panorama,' p20-26, 43-48, 58-67.
---
Further reading on Reincarnation:

REBORN IN THE WEST:
The Reincarnation Masters
by Vickie Mackenzie (1995)
An account of several Tibetan Buddhist spiritual teachers who are believed to have reincarnated as Westerners:
- Tenzin Sherab, believed to be the reincarnation of Geshe Jatse
- Jetsunma Ahkon Norbu Lama (b. 1949 in Brooklyn, New York), believed to be the reincarnation of Ahkon Lhamo (d. c.1665?)
- Lama Osel (b. 1985 in Spain), believed to be the reincarnation of Lama Thubten Yeshe (1935? - 3 March 1984)
- Trinley Tulku (b.1975) believed to be the reincarnation of Khashap Rinpoche
Also contains interviews with past life therapists Roger Woolger and Hazel Denning, and Rabbi Yonasson Gershom, who documents cases of
reincarnation of victims of the Nazi Holocaust.

REINCARNATION: THE BOY LAMA
by Vickie Mackenzie
About Lama Osel (b. 1985 in Spain), believed to be the reincarnation of Lama Thubten Yeshe (1935? - 3 March 1984).

BEYOND THE ASHES
by Rabbi Yonasson Gershom
A study by a Hasidic rabbi of people who believe they were killed by the Nazis and then reincarnated.
Index - Book Two