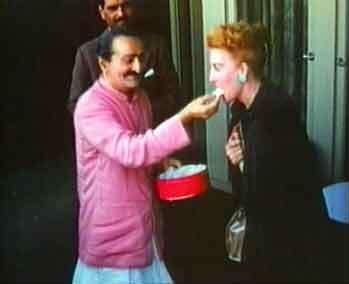 DIET
Book Two
"Meher Baba sent the guests away the day after his birthday celebration. He remarked to the Mandali,

'Yesterday I watched all of you eat too much. The rich food should be properly digested, or else you will fall sick.'

All cringed at the thought of another march, and Ahmed Khan was anxiously waiting for the Master to signal the order. Instead Baba said,

'There is only one cure that will help. Today we must all laugh a lot. Heartly laughter will digest the food.'

All were delighted at this novel suggestion, and many humorous anecdotes were told. Baba too shared in the jokes, and made the Mandali laugh."
February 1923,
Manzil-e-Meem, Bombay,
Bhau Kalchuri, LM2 p487
Baba visited Chanji's father Hormusji Dadachanji. Hormusji had been diagnosed with cancer of the throat, and was unable to eat or even to drink water. He had been a strict vegetarian.

Baba told him to eat fish. Hormusji was able to eat a small amount of fish, and thereafter he was able to eat. He experienced less pain, but was still very weak. He died peacefully not long after.
LM4 p1307 (27 or 28?
April 1930, Bombay)
Herbert Davy was going to China to work as a professor of Literature for the League of Nations. Baba gave him these instructions, among others:

"Be a vegetarian. Do not smoke or drink. Meditate for one or two hours daily... Never take opium.
16 September 1931,
Devonshire, England,
LM4 p1421
Mr. Vivian: Any instructions about food?

Baba: If you can possibly give up eating meat, do that.* But don't let it disrupt your day-to-day activities and health.
29 September 1931,
London,
LM4 p1440

*According to Bhau Kalchuri, Baba told Vivian
to stop eating meat at Meredith Starr's suggestion.
The wife of a composer told Baba,

"I was a skeptic, but after meeting you, my illness, which has troubled me for years, has left me. I feel mentally perplexed and physically stiff at times. Perhaps it is because I eat meat."

Baba: It is not a question of food, or eating meat. You may eat it. Your heart is pure, and that is enough. Do one thing - stop worrying. I shall help you and your husband.
29 September 1931,
London,
LM4 p1440
"... Until 1932, Meher Baba did not allow his Mandali to have eggs, so they could not even eat cakes or chocolates. Because of that restriction, during Baba's first visit to the West, the Mandali who accompanied him had to appease their hunger mostly with bread and butter, and it was Winter. Nevertheless, Baba gradually granted them permission to have eggs, and after a few years, fish and meat if they so desired."
Bal Natu, GG1 p316
Kitty Davy wrote about a trip of nine women and one man to stay with Meher Baba in India, leaving London March 24, 1933, and arriving in Bombay April 8th:

"Baba had sent us definite orders not to sunbathe when on the Red Sea, and about taking plenty of iced lemonade, etc. Until leaving London we had been allowed to eat fish. After leaving London, no fish allowed. Not one detail was left for us to settle. He thought out everything beforehand."
PM p193
Charles Purdom wrote about Baba around 1936:

"He is a strict vegetarian, takes no alcohol, and does not smoke.

"Though his tastes in food are simple, he is often difficult to please. Sometimes in Italy the housekeepers would plan a delicious meal of rice, vegetables cooked with hot spices, lentils, grapes, peaches, green figs, and orange juice. To make happy those who had prepared the meal, he would say it was delicious; but afterwards it would be noticed that he had barely nibbled at a few dishes. The only evidence of eating would be a slice of bread with a hole in the centre. He eats, but seems to have no desire for eating."
PM p231
"Do not eat flesh or fish. Eggs, vegetables, milk and fruit should be the diet. Do not take intoxicating alcohol or liquor."
Meher Baba, February 1937, individual
instruction to Garrett Fort, LM6 p2117
A Swiss man fasted three days to prepare himself to meet Meher Baba. Baba told him:

'You must be hungry. Spirituality is as normal and natural as that chair you are sitting on. You need not fast. Only love is important."
August 1937,
Cannes, France,
LM6 p2205
A fourteen year old boy, Suloo Meshram, read about Meher Baba in a newspaper. He wrote to Baba, got permission to see him, and traveled by train from Nagpur to Panchgani, about 700 miles. Suloo told Baba that he wanted to offer his life to Baba and obey him implicitly. He stayed three days with Baba and the Mandali.

Meher Baba said of Suloo, "Fit for this path." Baba gave him these instructions:

He should never tell a lie to anyone.

He should abstain from lustful actions, smoking and alcohol.

He should not eat meat, fish or eggs.

He was to meditate for an hour every day; and to write 'Om Parabrahma Baba' for another hour daily."
GG6 p65-66 and LM7 p2277 (April 1938)
"Preparations began for another mast trip. Often pure drinking water was unavailable during these travels. On January 24th, while discussing with Adi Sr. the precautions to be taken during the trip, Baba commented,

'When thirst is intense and bad water is drunk, it does not affect your health. But when thirst is not intense, if bad water is drunk, it will have a detrimental effect."'
Bhau Kalchuri, LM8 p2844
(24 January 1943, Meherabad)
In the 1940s, Norina Matchabelli lived in New York. Baba told her to eat no meat, with one exception: she could eat turkey on Thanksgiving and Christmas.

Norina told Ivy Duce, who had not yet met Baba, that she felt Baba would also want her to give up meat-eating, except turkey on Thanksgiving and Christmas. So for two years Mrs. Duce stopped eating meat. She decided to eat fish instead, although she 'loathed fish.'

When Ivy Duce visited Baba in India in January 1948, Norina was also present, and Baba told Norina to tell Mrs. Duce that she could eat meat, but not to eat fish. Ivy Duce later wrote, 'I assumed that it was so that I should learn to be indifferent to whether I ate this or that.'

Later, Baba told her, in reference to teaching Sufism,

"Do not stress pork, alcohol or tobacco in the West. Tell them that what comes out of the mouth is far more important than what goes into it."
HM p20, 25, 205
Baba: Nilu attends to the sick, and does it sincerely, but the number of patients in this group keeps increasing. Today he told me that Manik Yala Rao is very sick with a weak heart, and that he felt dizzy yesterday. Nilu told him to rest, but he got up at 4 a.m.

(to Manik Yala Rao) Do you want to die at such a young age, or remain in this body to do more Baba work? If you want to ruin your body, it will drop soon. Pendu will order the medicine prescribed for you, and Nilu will give you an injection today and tomorrow. Don't be disappointed, and do as I say. Follow Nilu's instructions, take proper care of your health, and you will be all right. Do you eat eggs?

Dhanapathy: He is a strict vegetarian.

Baba: You must take a raw egg mixture every morning. When I advise it, there is no harm in taking it. But do not start eating mutton. Mix the egg in milk with honey or sugar, and swallow it. First take my name, and then drink it."
15 November 1955,
Meherabad
LM13 p4744
At a gathering of 181 men from Andhra state

"I'm very, very happy when I am with my lovers. I feel very happy.

"When do the people of the world feel happy? When they have an appetite and enjoy a good dinner. After they have enjoyed it, they feel a sort of satisfaction and happiness. It is a pleasure to eat when hungry.

"What is my appetite? My appetite is satisfied only when I meet my dear lovers... When I see your love, I am satisfied. That is my food.
Meher Baba,
22 July 1956,
Manhattan
to a family from Schenectady,
Aw 4:2 p29 Also HM p587
Harry Kenmore was one of several visitors at Meherazad in October 1959, and like the others Baba had instructed him to fast and observe silence on certain days. On October 20th, one hour before he was due to break his fast, Baba sent him this poem, which he had dictated:

"One hour more, then open your tummy's door,

And with eatables galore your energy restore.

With God's name in your heart, with maya wage a war,

And taking Baba's name, make maya lick the floor."
Aw 10:4 p19
maya = the principle of ignorance
---
For more about diet, see GG1 p313-318, AO p93-95, HM p 587-588.
Diet Book One
Index - Book Two