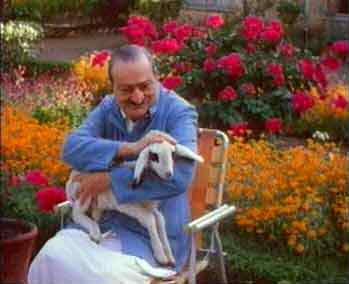 ANIMALS
Book Two
"... There is in the heart of divinity a thought for all that breathes -- bird, animal or man. Beloved Baba, in his impersonal aspect, is concerned not only with the well-being of man, but also with that of all other forms of life. According to him, all animals, and even plants and trees, are an inalienable part of the larger brotherhood to which we all belong. As a natural corollary of this, we have to be affectionate and considerate toward birds, animals, etc., not out of any sense of duty or even obligation, but out of the spontaneity of recognised values.

"Thus, according to beloved Meher Baba, love for animals or birds would be more than sympathy or consideration. It is a natural coordinate of acknowledged kinship with them. To deny love to birds or animals is, according to him, to repress one's own divinity. Beloved Baba's often repeated mandate to humanity is 'Love life in all its forms.'

"... Beloved Meher Baba is God, and as such, experiences himself in all living beings, including birds, animals, vegetables, etc. We cannot adequately raise any question about what God's attitude is toward animals. God cannot take up a specific attitude in relation to his creation, because he has himself become that creation. Since beloved Meher Baba is an incarnation of God, there can be no question of his taking up any attitude toward any forms of his own being...

"... All who have had the opportunity to be with him have invariably observed that he loves birds and animals as much as he loves human beings. He often feeds them with his own hands, gets all their ailments attended to by competent doctors, and looks after them with the same parental care and love which we find expressed in relation to those humans who have the good fortune to come within his personal environment..."
Chakradhar Deshmukh,
from notes dictated by Meher Baba
for a letter to Irene Coneybeare, 1957, GG1 p306-307
"Baba had a great feeling for all life. Life must not be treated lightly. Not a worm or an ant must be trodden on consciously. If unconscious, then it was excusable. If a mouse or a rat was caught on the hill, or fell in a well, it had to be rescued, and taken in a trap a mile from the compound and given its freedom. Or again, if a lizard was seen on the wall, it was caught in a towel or shooed through the door.

"Sick birds, little hares, lame dogs, all found a haven near Baba, and were given into the care of Naja, who had a healing touch. When any of our pets died, Baba would always see that they were properly buried, supervising the operation himself, but he did not want us to be emotionally upset. Had they not been touched, cared for and loved by Baba? Thus death for them meant progression in evolution."
Kitty Davy, LA p295
"... Baba instilled in us respect for all forms of life. Through his tireless and loving example of care and concern for even the tiniest creatures, we too were inspired with such feelings."
Mehera Irani,
Baba Loved Us Too, p40
SNAKES
When H. S. Dikshit asked permission of the Perfect Master Sai Baba of Shirdi (1836?-1918) to kill a poisonous snake, Sai Baba replied,

"No. We should never kill it. Because it will never kill us unless ordered by God to kill us. If God has so ordered, we cannot avoid it."
c.1916? The Life and Teachings of Sai Baba of Shirdi,
by Antonio Rigopoulos, p222
"... A five foot long snake was seen outside the kitchen with a sparrow in its mouth. Baba was called, and he came with a few of the men. One man struck the snake on its back, and it released the sparrow, which flew away. Baba gave the final killing blow, crushing its head. Later in the evening after dinner, he remarked about snakes,

" 'Unless a snake is killed by a human being, it remains always a snake. Never leave a snake wounded, as it takes so long to die. Once wounded, a snake will always remain near you to be killed outright.'

"On another occasion the men killed a snake at lower Meherabad, and Padri brought it to Baba, who crushed its head. To Padri he explained,

" 'In evolution, the snake form is like an entangled rope which you cannot undo or unwind. However, if it is killed by a human being the knot untangles itself, and the soul is free to continue on its way through evolution.' "
Bhau Kalchuri,
LM7 p2269
(28 March 1938, Panchgani, India)
Meher Baba generally traveled third class by train, but one time he agreed to go first class. A young British couple entered the first class compartment and sat down across from Baba and Eruch Jessawala. The woman kept looking at Baba, whose head was wrapped in a scarf.

After a long time Baba nudged Eruch and gestured, 'Tell her, if she has something to say, to speak it.'

Eruch smiled at her and said, 'Do you want to ask anything? Do you wish to say something?'

'May I?' she said.

Eruch looked at Baba, who gestured, 'Yes, go ahead.'

She began, 'I do not know why I am saying this to you, but I want to ask you something.'

'Yes, speak up,' Baba encouraged her.

'My husband is a government officer, and whenever he goes on tour I accompany him. But there is just one distressful thing: while we are on tour, going to distant places, wherever I go, snakes seem to follow me, and I am terrified of snakes. I just want to ask you, is there anything that will stop this?'

Baba gestured, and Eruch spoke for him, 'Yes, I can tell you something for this.'

'What should I do?'

'What you should do is this: when you get to your town, go to the bazaar and buy a locket. Take a little eggshell, and burn it to ashes. Then place a pinch of the ashes in the locket, and wear it all the time. That will keep away the snakes.'

The woman was grateful. Her husband nodded indulgently.

Eruch concluded that Baba had agreed to travel first class to meet these people, who never would have set foot in a third class compartment.
October 1947?
traveling from Bombay,
LM9 p3199-3200
"Baba gave us orders to stay on the footpaths, to carry flashlights at night, and if we saw one of the poisonous snakes - which were plentiful because the land had never been cleared very much except where the cabins stood - we were to repeat his name, and the snake would go away."
Ivy Duce, HM p251
(1956, Myrtle Beach, South Carolina)
"He then discussed the snake question, for the woods at the Center, like all country regions, have some poisonous snakes. He told us to be careful and to wear the right shoes - no open toes. He said that if we did see a snake, to say 'Baba' and it would not hurt us.

"Even if we stepped on one, but remembered to say 'Baba,' it would not harm us. But if we wore open-toed shoes, and said 'Baba,' it would not go away. And if we did not pay heed and one did bite us, he would drop us in the lake!"
Filis Frederick,
Aw 4:3 p26
(24 July 1956,
Myrtle Beach, South Carolina)
FISH
"Baba chatted a little with the older women, then turned around to us girls and asked, 'What do you do all day long at Khushru Quarters?' There were many people staying in Khushru Quarters, and he wanted to know whether we were spending our time gossiping.

" 'Baba,' we replied, 'we keep to ourselves and stay in our room. We write and sew and wash our clothes, and in our spare time small Khorshed tells us stories about Manzil-e-Meem when she used to visit you there.'

" 'Good,' Baba said, 'but now I want you to write the name of Yezdan in Gujerati on paper in tiny, tiny letters for one hour each day.' Yezdan is one of the Zoroastrian names for God...

"When we got home we sent for writing pads and pencils... We each wrote God's name, Yezdan, for an hour...

"Baba later had us cut the sheets of paper on which we had written Yezdan so many times into tiny pieces, each with Yezdan written on it once. There were hundreds and thousands of these tiny slips of paper. Baba told us that later he wanted the slips mixed into wheat flour pellets, and that these pellets were to be thrown into the sea for fish to eat. He said this would be good for the fish. But somehow there was so much work to do, and the slips of paper were never made into pellets."
Mehera Irani,
M p 56-57 (1924, Ahmednagar)
Don't kill lizards. Any animal that directly injures should be killed, but not lizards. Catch them and throw them outside. They eat flies and are useful.

If you kill them, you will be a lizard in your next birth.
17 November 1940, Kandy, Ceylon
to Dowla and Katie, LM7 p2641
THE WOUNDED BULLOCK
'The Rahuri ashram was on land taken on a five year lease from a Marwari. Adjacent to the ashram, the Marwari was living on his farm, irrigating it by drawing water from a well in a big leather skin bag pulled by a pair of bullocks.

"One of the bullocks had a large wound on its back which had become septic, and was not healing. Baba noticed the injury to the animal, and suggested to the Marwari several times not to work the bullock so hard, and to send it to the veterinary hospital for treatment. The Marwari promised to do this, but did nothing.

"Baba then sent Kalemama and Dhake to prevail upon the man, and remind him that mercy was the fundamental principle of the Hindu religion. He should have mercy on the animal and get it treated, or purchase another bullock. Dhake and Kalemama tried to persuade him at length on April 14th, but the man would not agree, and countered, 'I simply cannot afford to spend two hundred rupees to buy another bullock just to satisfy your humanitarian instincts.'

"Several days later, the Marwari came to Baba. He had no children, and requested Baba to grant him the boon of a son. Baba promised, 'You will surely get a strong and handsome son.'

"The Mandali now thought, since Baba blessed him, that the Marwari would give the bullock a rest, but they found out that he did not...

"Baba had assured the Marwari that he would have a son, and accordingly, his wife soon became pregnant. It was observed that the man was full of happiness because of this...

"On the 14th of July, 1937, he went on horseback to a nearby village. On the way back, while crossing the river at Rahuri, there was a sudden break in the dam, and the flood waters overwhelmed him and carried him away. He was drowned. His body was found two miles away. Months later, his wife gave birth to a son."
Bhau Kalchuri,
LM6 p2174-2176
DOGS (and CROWS)
"A person dies when his sanskaras are exhausted, spent in full. After a person dies, his sanskaras snap the mind's connection with the Gross body. And at that time he receives such a shock that he forgets every incident of his past life. But, even though the Gross body drops, the mind and the Subtle body remain full of sanskaras.

"For the next forty to seventy hours after death, the attention of the sanskaras is centered mostly on the place where the body is kept. But, after that, there is no connection whatsoever between the dead person and that place. Within the next eight or ten days, the spirit of the dead person experiences the Subtle state of either heaven or hell, according to his sanskaras.

"After a person dies, many people perform rites and ceremonies for a long time. But all these are useless. No ritual is necessary after ten days. However, the best rites would be to feed either dogs or crows near the body, because they have Subtle sight and can see the spirit of the dead person. Crows and dogs are not Subtle-conscious, but they have Subtle faculties of perception, and draw towards themselves the sanskaras of dead people."
Meher Baba,
22 September 1926
Meherabad, LM3 p848
ANTS
"... I knew from my experience with Baba that he was always most particular never to kill ants... ants Baba never wanted harmed. If we were walking along, Baba would sometimes suddenly alter his stride, and then point down to the ground and gesture to us to go around. Be careful, he would gesture, there are ants there, don't step on them. And so we would take great care to step over them, to walk around them, so we wouldn't inadvertently kill any."
Eruch Jessawala, DH p12
One day Baba was sitting with a group around him, when a black ant crawled onto his hand, and then onto the sleeve of his white sadra. Everyone sitting nearby noticed the ant, and Eruch got up to flick it off, but Baba stopped him. Pausing, he gestured, 'This ant will take human birth.'
Arnavaz Dadachanji, GO p169 (1960s?)

For perhaps the only occasion when Meher Baba
did permit the killing of ants, see DH p11-13.
ACCIDENTS
"One evening I noticed on the road a bird which had been hit by a car, and I stopped and ran over to get it. It died as I touched it and repeated Baba's name. Later I asked Baba what happens with regard to karma if one's car strikes and kills an animal or bird. Baba's reply was that the driver of the car assumes the karma, and the only exception to that is if Baba is riding in it, whereupon he assumes the results of the karma."
Charmian Duce,
HM p110 (1952)
---
For more about Meher Baba and animals, see 'Baba Loved Us Too' by Mehera Irani (a book of stories of Baba and his pets).

Also see 'Mehera' by Mehera Irani.

To read about Maharaj, a mast Baba worked with who particularly loved and took care of animals, see Wo-a p. 14-15. Wo-a is in the back of 'The Wayfarers' by William Donkin. An abbreviated account of this mast, taken from Wo-a, is in GG1 p308-309.



Animals Book One<

Index - Book Two